Skip Navigation
Website Accessibility


We are
Temporarily Closed for Remodeling.

Look for the Shop to Reopen in October.



Save
Save
Save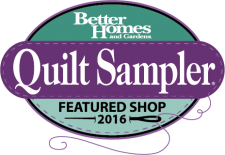 Save
Save
Save
Save
Save
Save
Save
Save
Save
Save
Save
Welcome to Ethel's!

Here at Ethel's Quilt Shoppe, we carry a wide variety of high-quality fabrics and unique wools with a concentration in the reproduction/civil war genre. You'll also find a delicious selection of the industry's most recent jelly rolls, layer cakes, and other delectable pre-cuts. Located in historic downtown Sandusky, Ohio in a beautiful building from 1884, our store features a cozy, welcoming atmosphere and friendly, knowledgeable staff members who are always on hand to offer attentive, personalized service. No matter your quilting style or skill level, we have the products and services you need to bring your creative ideas to life!

"There are no strangers here; Only friends you haven't yet met." - William Butler Yeats

Proud to Offer
Location/Hours
279 E. Market Street, Sandusky, OH 44870
419-502-9123

TEMPORARILY CLOSED
UNTIL OCTOBER 2023

Wed & Fri 10-5
Thu 12-5


1st & 3rd Saturdays of the Month Only
Sat 10-2
The Store
Please note that we are a small business and we occasionally struggle to balance shop and family responsibilities. Unfortunately, this means that once in a great while we are not able to maintain our regular business hours as posted. We encourage you to call 419-502-9123 before visiting the shop to make sure we will be here when you are. We are here 99.9% of the time, but we thank you for understanding our family priorities.
Save
Save
Save
Save
Save
Save
Save
Save